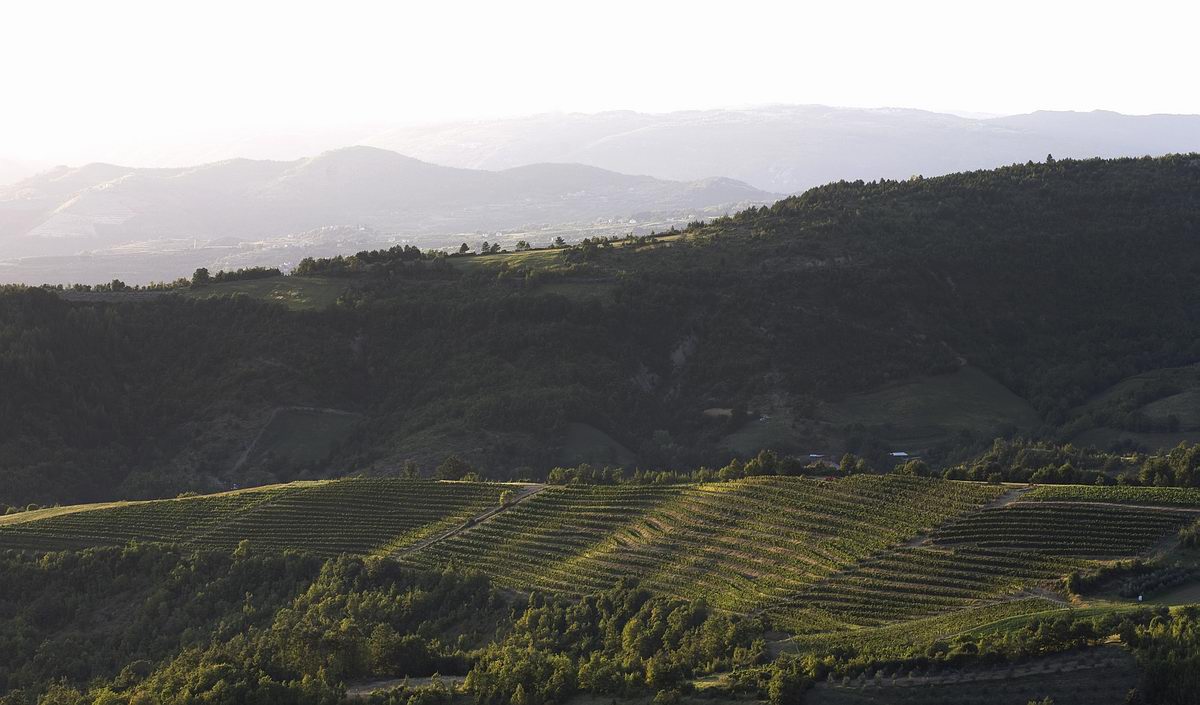 When you think wine, certain places come to mind: California, France and Italy to name a few. But they're certainly not the only options. We've dug up some lesser known wine regions that have everything you're looking for in a winery honeymoon or destination wedding: delicious varietals, gorgeous scenery and plenty to do and see.
Croatia
When I was in Poland, I asked my tour guide what the most under-appreciated place in Eastern Europe was, and she said Croatia. She had been once, she told me, and would always remember the gorgeous views and varied landscape. Despite its status as one of Europe's most popular destinations, they still hold fast to the local traditions. There's lots to explore in the major cities and off the grid, so you'll never be bored. The wine community in Croatia is a blend of long standing locals and expatriates who have moved to start their business there. The variety in winemakers leads to a variety in wines, so you'll never be at a loss.
Hungary
France and Spain are Europe's wine powerhouses, but head a little further east for some crazy good (and very unique) wines. Hungary has a long history of providing quality wine, dating all the way back to Louis XV, who claimed that Hungary was "The king of wines, the wine of kings!" In a more modern context, Hungarian wines focus on crisp white and red wines. You can buy variations on their traditional Tokaji wine here in the States, but why do that when you can visit Budapest and soak up all the brilliant scenery while you're there?
Tunisia
This slim wedge of a country rests on Africa's Northern shores, along the Mediterranean coast, which provides a great location for a straight up sand and sun holiday. Because the majority of the country's climate is more arid and dry, it's not necessarily the best place to grow wine. But the Northern Coast's Mediterranean climate provides just the right relief from the desert conditions to make vineyards possible.

Southern Illinois
I'll admit I have a bias on this one, being a Southern Illinois native. Although driving through miles and miles of corn doesn't give a great first impression, trust me on this one. I'll also admit that I was skeptical at first. Wine? In Southern Illinois? But I was happily reassured when my cousin held his wedding reception at Hidden Lakes Winery in Aviston, IL. One minute I was zipping down a county highway through field after field of corn, and the next minute I was in a wooded grove, complete with a lake and a scenic cabin where the reception was being held. It was like magic. And the further south you go, the more wineries pop up. The Shawnee Trail winds itself through Shawnee National Forest (the only national forest in Illinois), so there are beautiful views to accompany your glass of delicious wine. You can hop on the Shawnee Shuttle for a fee and not have to worry about finding a designated driver for the day. All you have to do is kick back and enjoy.
Romania
Romania can get kind of a bad rap from the rest of Europe, but give it a chance. The capital city of Bucharest is a pleasant mishmash of medieval church remnants, French Baroque buildings, and 21st century offices that have recovered quite gracefully from the rebellion that swept the city just over 20 years ago. Romania is also the sixth largest wine producer in the European Union, sliding in just behind wine powerhouse Italy. They play host to a variety of local and international grape varieties, making their wines as diverse as the landscape of Bucharest.
South Africa
South Africa is probably the most well-known country in Africa for winemaking, but it seems to be off the radar on the global scale. Even though the country exports more than 400 million litres of wine each year, it's worth the trip to see the scenery as well. There's a reason South Africa's wine is so good; the mountainous geography and arid climate lend itself well to winemaking. And those mountains provide a great view to go with your glass. You don't have to stay limited to South Africa either, many other countries in Africa are coming up with a rising wine market, including Zimbabwe, Kenya, Tanzania, Tunisia (mentioned above), and Ethiopia. Each country has wines specific to their region and culture. For example, Ethiopia's traditional Tej honey-wine might be hard to come by in a winery, but it's gaining popularity in Western countries.
New Zealand
For selling less than 1% of the world's wine, New Zealand certainly has a reputation as one of the best regions for wine in the world. No winery is more than 80 miles from the ocean (think about those views!) and the seaside environment is beneficial for the grapes. They've garnered such a good reputation that winemasters from New Zealand were actually called into Hungary and Croatia to help rejuvenate the wine market there, and as I mentioned above, it worked. For the environmentally conscious or focused on organic food; most of the wineries in New Zealand work in a fully sustainable environment, and there are organic wines available.
Georgia
The state's pretty great, but in this case I'm talking about the country of Georgia. Riding the border between Europe and Asia, this country's winemaking traditions date back more than 6,000 years. They founded the unique Qvevri technique, in which wine is steeped underground in an egg shaped terracotta container to produce a light and almost ethereal wine. The tradition, although widely celebrated, is in danger of dying out due to a lack of knowledge on the subject. Luckily, the word is spreading about Qvevri wine and its quality, so hopefully production will kick back up again. Despite the limited supply, increased international demand is making it easier to find distinct Georgian wines in Western parts of the world.
Hawaii
Now I'm talking about a US state. Hawai'i is a popular honeymoon destination for people around the world, and we've already given some great advice on spending your honeymoon in Hawaii. If you manage to find some time between all the cool stuff to do, or just want to take a break from relentless exploring, pay Volcano Winery a visit. As the name suggests, it rests in the shadow of the volcano on the big island. They craft a variety of grape, fruit, and honey wines; they may not win many awards but it's still a fun and tasty excursion.
Argentina
Argentina is the largest wine producer in South America, but most of that wine is consumed within the country. The cities in Argentina are fast paced and filled with things to do and see, but the real beauty of this country lies outside the metropolis. The central-west region of the country, consisting of Mendoza and San Juan, is responsible for more than 90% of Argentina's wine. Mendoza is one of Argentina's most popular cities, because it has a variety of things to do both in and around the area. Coupled with the natural beauty of the area, this is a great place to take a vacation.